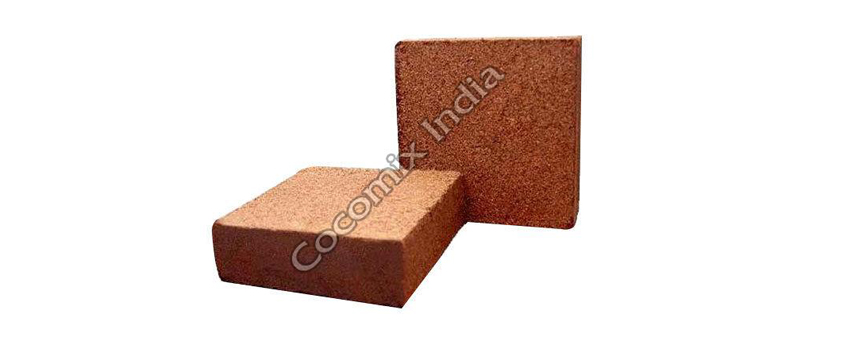 Coco Peat, also known as Coir Pith and Coco Coir, is a soft, spongy, and slightly cork-like substance found inside a coconut husk that binds the coir fibers together. It was identified in the 1990s to have great multipurpose capabilities as a growing medium, and as a result, its use and value have grown ever since.
It has recently gained popularity in hydroponics circles, where it is thought to be similar to, and even superior to, peat by certain growers.
Cocopeat, also known as Buffered Coconut Peat or coconut coir, is a byproduct of coconut waste. The coconut fruit is particularly easy to find in tropical regions, especially where there are many coconut plantations. The usage of coconut in the agricultural or gardening industry is widespread; practically all sections offer significant benefits in the agricultural or gardening sector.
Utilizing coconut fiber as a solid fertilizer in the agricultural or organic gardening sector plays a significant impact on the fertility of the growth media on agricultural land. With the voids in the soil, cocopeat acts as a bio-pore for the soil, increasing air circulation and transporting oxygen needed by plants.
Aside from enhancing soil aeration in agriculture or gardening, another coco peat benefit for plants is the ability to store water 8-9 times its weight and hold approximately 73 percent of the water delivered. This is considerably superior to sphagnum medium, which can only hold 41% of the water.
Cocopeat can bind and store up to 50% of the oxygen in the air, which is better than soil's 2-3%, therefore this percentage grows faster in cocopeat than in soil.
For places with minimal rainfall, using coconut fiber as a substrate for organic fertilizer is the best approach. However, while using cocopeat, it is important to prevent overwatering because too much moisture in the cocopeat might induce root rot in plants.
Coco peat Nutrients:
Buffered Coconut Peat has a carbohydrate content of 75% and a lignin content of 25%. Carbohydrates are a category of cellulose polysaccharides that are very complicated. Cocopeat, with its rich cellulose and lignin reserves, can be a useful food supply and breeding site for plant-beneficial microbes. There are some helpful microorganisms in the roots that can proliferate effectively in cocopeat media, such as rhizobacteria (PGPR) and many forms of mycorrhizae.
Cocopeat provides ingredients, both macro and micronutrients, which plants require. Coconut fibers include a variety of macro and micronutrients, including (K) potassium, (P) phosphorus, (Ca) calcium, (Mg) magnesium, (Na) sodium, and several other minerals. However, of the several nutritional components found in cocopeat, the element K appears to be the most abundant (potassium). As we all know, plants require (P) Phosphorus and (K) Potassium during the process of fruit creation and increased flavor for all sorts of fruit.
Benefits of using cocopeat:
Cocopeat is highly recommended for individuals who produce vegetables in a hydroponic system (Coco Coir Hydroponics), particularly drip irrigation hydroponics. With a good functionality as a water barrier, cocopeat can quickly get moist if put in water, even if it has been exposed to drought. Cocopeat is not only recommended for hydroponic systems but it is also suggested as a growth media combination for home gardening.
For potting planting media, mix cocopeat with rice husk charcoal. The point is that coco peat is extremely beneficial to plants and may be utilized in any planting technique.
The usage of coconut fiber as an organic fertilizer mixture has been found to have a good impact on crop cultivation. Rice plants that get solid organic fertilizer with the addition of cocopeat have higher quality, weight (softness), and feel when compared to rice plants that receive equivalent organic solid fertilizer without the addition of cocopeat.
To grow plants in pots, you can also grow plants in coco peat without combining it with any additional materials; this is commonly used in hydroponic methods with drip irrigation. You may also use coco peat for seed germination in plant nurseries; simply replace the substrate with cocopeat, and the germination processes are the same as for other plants.
A small amount of Coco Peat goes a long way. Coco peat has three characteristics that enable this: a high cation level, efficient water absorption, and high porosity. This implies you don't need to add a lot of it to improve the quality of your mix.
Coco Peat can be compressed to 1/5 or even slightly less than its initial volume, making it very easy to transport or store. You can also use this to your advantage by pushing your Coro Peat into desired shapes as needed.
Coco peat is a byproduct of coconut farming, and prior to its discovery, it was simply taken from the husks and discarded as garbage. Because it is a natural element of the process of obtaining coconuts, it is a readily available and entirely renewable resource.