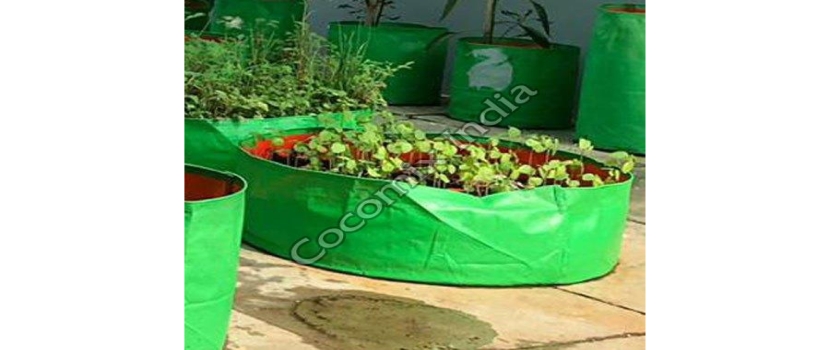 The benefits of gardening in grow bags supplied by the plant grow bag supplier are apparent, whether you want to cultivate nutritious fruits and veggies or add brilliant colour with annual flowers. Grow bags, which have been progressively prevalent, are an excellent asset for those growing in small or less-than-ideal settings. Grow bags provide gardeners with a convenient and simple approach to create lush, healthy landscapes, in contrast to their flexibility.


While it's tough to dismiss the benefits of farming in grow bags, there are some drawbacks to consider as well. Fabric grow bags are gentle by nature but do we have to be soft on the legitimate concerns and problems they raise?


Benefits of Grow Bags
The advantages of grow bags are numerous. You may use these indoors and quickly transport them outdoors, store them up if not in use, or use them for a 12-month period, which is ideal if you have restricted yard space or reside in an upward flat.


Regardless of space constraints or reliance on good garden soil, they can be utilized to cultivate healthy vegetables, flavorful strawberries, herbs, and other salad foods.


Variety
Professional growers and household gardeners alike use fabric pots in their gardens. Grow bags are popular for a variety of reasons, including their ease of use and accessibility. Though there are many different sorts, it is advisable to choose bags made of breathable and durable materials. These bags are both durable and beneficial to the overall health of the plants.


Versatile
It's versatile and can be utilized anyplace. When looking to extend their home garden space, many gardeners turn to plant grow bag. Indeed, one of the most significant grow bag benefits is the ability to grow plants in formerly unsuitable spaces, such as rented lawns or even tiny apartment balconies.


Can Be Grown Anywhere
In places with poor soil, this product can be used. Growers with thick soils may use these bags expressly to help them grow more productive root vegetable crops like carrots and potatoes. If your soil isn't just right, a grow bag can help you out. Plants can be grown in looser, richer soil, similar to a raised bed or pot.


Cost-Effective
The ease with which it can be used. Grow bags are a feasible and cost-effective solution for many people because of their ease of assembly. Even amateur gardeners may construct stunning vegetation and displays packed with annual plants without having to clear grass or build beds with equipment.


Good Plant Health
The bags are ventilated. Other advantages of widening plants in grow bags include features that can have a significant effect on the plants' wellbeing. The superior permeability offered by high-quality cloth grow bags reduces the risk of overwatering. Root rot, which is a significant problem in other containers, is not a common reason for concern when utilizing grow bags.


Root Health
Healthier root growth is produced by plants. One of the key benefits of using a grow bag is that it improves overall root health. As the tree roots establish themselves in the bag, their susceptibility to heat and humidity triggers a biological process known as "air pruning." Simply said, this process enables the plant to develop a stronger root system.


Tiered Frames
While grow bags can be utilized on the ground like a typical garden, platforms with two or three tiers allow you to grow extra in a similar place with a little more elevation.


Grow bags could be as little as 27 inches wide and hold three plants, so they don't take up a lot of room. Tiered frames can be used to layer grow bags that are producing various fruits, veggies, or salad greens at the same time.


Trough Planters
Grow bag troughs are similar to regular garden troughs in that they are broad enough to fit a grow bag on the bottom, have poles on either side and a bar across the top to allow you to move your plants whenever you need to.


Troughs are a great way to move grow bags around the yard, allowing you to transfer them to the areas of your garden that receive the lightest, or if you want to grow them indoors but bring them outside whenever the weather is nice.


Final Words
Grow bags provide numerous advantages for plant growth in your home garden. You can use them to grow fruits, veggies, or just flowers to enhance your home's decor. The grow sacks are permeable, which encourages root growth.